231km – Redbank Gorge, up Mt Sonder and back, then East along the Rugged and Spectacular Larapinta Trail through to the Telegraph Station in Alice Springs
Brought to you by Alice Springs Running and Walking Club, the West Macs Monster (WMM) is the iconic and formidable end to end Larapinta Trail race you can't not attempt! 231kms of spectacular and rugged single track affectionately named the 'Sonder Monster' that winds itself through the ancient West MacDonnell (Tjoritja) National Park landscape in Central Australia. The course provides an intimidating, yet alluring test of physical and mental endurance in a non-stop, end to end race format with a 60 hour cut-off. Only a handful of individuals have ever attempted and succeeded at completing the full trail distance in under 60 hours with the current record set in 2023 by local running legend, Simon Duke of 39 hours 56 minutes 26 seconds.
As a solo effort, you are in for an unbelievable adventure race!

Proudly supported by Ekistica, this local Professional Advisory and Technical Consultancy firm work nationally and internationally on challenging technical and renewable energy projects. They connect people, place and technology and relate well to the remote challenges and the special connection to country that you as competitors will face during this event.
WEST MACS MONSTER RACE DETAILS BELOW
ENTRY FEE INCLUSIONS for 231km SONDER MONSTER (Not applicable to buddy runners):
Hard Copy Course Maps and GPX Files

SPOT Tracker Device 

Race Bibs (Front and Rear)

Dinner ticket for the Thursday Night meet and greet, post briefing

Aid Stations and supplies

Professional Medical support

Event medals and trophies or equivalent

Park entry fees to see Standley Chasm (value $15)

Camping/access fees at Larapinta Trail Campsites/trail heads during event for entrants and their immediate crew only

The trail running experience of a lifetime!

6 ITRA Points
WHAT THE ENTRY FEE DOESN'T COVER:
Transport to Race Start lines (WMM will provide an option at a small additional cost)

Accommodation at any other location not on the Larapinta Trail before, during or after the event

Any meals before or after the event
COURSE DESCRIPTION:
Start with a climb they said….it will be fun they said…..
Well a climb it is! 8km and ~740m of elevation gain just to get the heart rate going – to the top of Mt Sonder with the most amazing 360° panoramic vista. This climb sets the scene for the
remainder of this amazing trail. Those keen to enter the full 231km Sonder Monster will be rewarded time after time after time with vistas beyond belief. From here you descend the same path and at the base of the mountain, turn to the east and head towards Alice Springs. Some running relief for a while with beautifully formed undulating single track taking you to your first water stop – Rocky Bar Gap. Beyond here you will ascend to a lookout where you can relive your Mt Sonder visit…by looking back and enjoying a most stunning image of the mountain, filling your field of view.
Eastwards you continue through  to the stunning Ormiston Gorge and the second aid station. Then more fantastic single track rolling through spinifex hills and climbs to more ridge lines as darkness descends! Make no mistake, this trail has many technical elements and at times some navigation is required following the Larapinta Trail blue triangles (which are reflective at night). But you will be following in the footsteps of thousands of people who traverse this track every year. No doubt you will encounter many walkers who will be blown away by your ambition to run the whole trail.
The approach into Ellery Creek Check point will most likely be in the dark and a warm welcoming light awaits. From here you will head generally North East and across the longest single stage of the Larapinta Trail into the depths of the Chewings Range at Hugh Gorge. Here the course starts to cover some of the more challenging terrain. The terrain goes from river rubble, technical, shale ascents and descents, bouldering, rocky and everything in between. You travel up Hugh Gorge, over Razorback Ridge, through Spencer Gorge and up the magnificent Brinkleys Bluff past ancient cycads and then to the Standley Chasm checkpoint. Trail markers are reflective and show up well in your lights. The markers provide regular confidence checks, but it will still be necessary to keep your fatigued wits about you in the night sections.
The Ellery Monster 128km competitors commence their eastward journey at 9am on Saturday. It is anticipated that you will all integrate together over the next 128km to the finish line at some point.
Beyond the Standley Chasm checkpoint you will go into the most amazing back canyon, with very rocky technical sections and views up and down rugged ancient valleys full of Ghost Gums, Cycads Palms, Mulga Trees and spinifex. You will reach Millers Flat where you need to turn left and climb the high route option. The climb up this hill will test your weary legs, but is the first of only three significant climbs to go. It is possibly the most spectacular and technical of all the climbs. Again, don't forget to take some priceless selfies on top of this ridge (if you are lucky enough to be there during the day).
The 65km Standley Monster runners start at 6.30am on Sunday Morning from the Standley Chasm checkpoint. It is likely you may well encounter them as well from here to the finish line.
Off this high route hill, through fish hole waterhole aid station and continuing to Mulga Camp – well deserved check points, restock your fluids and eat some food. This signifies the end of the real hard stuff, with only two mild climbs in comparison to come. Easier running is your experience now through to Simpsons Gap checkpoint. From Simpsons Gap, 25km of fantastic running until the finish line.
The 25km Simpsons Monster Competitors start their journey at 12pm on Sunday. There is a chance you will come across them, or they may come across you as you make your way over the last section into the Alice Springs Telegraph Station. Compared to what you have endured so far, the ups and downs of this section pale into insignificance – however – you will be on weary legs well and truly so don't be fooled! The last few kilometers takes you over Euro ridge, regarded as the best view of Alice Springs from the Trail and then, finally, down into the historic Alice Springs Telegraph Station finish line – wow!
What a journey! You deserve every bit of the accolades you will receive for your amazing effort in this Monster of an Ultra Marathon! The 231km Sonder Monster!
Summary
A totally unique and seriously challenging ultra race! You don't need to be a speedster but a high level of fitness and mental toughness will make a huge difference! There are literally thousands of
photo opportunities! Some beautiful easy running interlaced with some extremely demanding, technical ascents and descents. Gaiters are not required to protect your legs, but some people opt to wear them. We do recommend as a minimum – good quality trail running shoes (and maybe a spare pair in your drop bags), hats, sunscreen, your mandatory gear, plenty of fluid intake and ongoing nutrition.  Some navigation is required to confirm you are on the correct path at all times – and remember – follow the BLUE arrows at all times!
We guarantee you will reflect on the significance of this run for many many years to come! Good luck!
ELEVATION:
Elevation gain 8,133m
Elevation Loss 8,239m
EVENT PROFILE: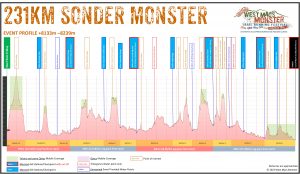 COURSE MAP:

MAPPING:
KEY DATES:  
231km Compulsory Briefing: Thursday 16th May 2024, 5pm, venue – Alice Springs Desert Park.
231km Start: Friday May 17th 2024, 9am from Redbank Gorge Trailhead
231km Cut-off: Sunday May 19th 2024, 9pm
REGISTRATION:
Registrations Open: Tuesday October 1st, 2023
Earlybird registrations close: Midnight October 31st, 2023
Online Registrations for personalised event bibs close: Thursday April 30th , 2024 (You can still enter after this date)
Registrations still available online up until 5pm Friday 10th May 2024 providing pre-qualifications are met. Some conditions apply.
REGISTRATION COSTS:
Solo
**If this is a consecutive year of entering the same event, you are entitled to a 10% discount for each year after your first year, ie 2nd year 10%, 3rd year 20%, 4th year 30% etc. Email us if you would like to access this special offer.
Early Bird (before midnight October 31st) – $890
Normal Entry (Nov 1st – April 30th) – $990
Transport/Bus to the start line $55
Buddy Runner/Pacer – $40 (optional during registration)
BUDDY RUNNERS/PACERS:
Buddy runners are subject to some rules contained in the general event rules. They are eligible to run in the 231km Sonder Monster from the Ellery Creek Checkpoint (~103km). All buddy runners must attend the compulsory briefing and comply with the race rules including mandatory equipment that is the same as the competitor they are pacing. Buddy runners can only start and stop legs at the publicly accessible Aid Stations.
DROP BAGS:
Drop bags can be left at the time of registration for any of the 4 major aid stations and the finish line; Ormiston Gorge ~49km, Ellery Creek ~ 103km, Standley Chasm ~166km and Simpsons Gap ~206km and the Finish Line 231km.  Our preference is for the insulated zip top shopping bags for consistency. Check point labels will be available to be filled out at registration to attach to your bags for clear identification. We encourage you to identify your bags with your own coloured ribbon or similar to allow you to find them quickly at an aid station.
RELAY TEAM NOTES:
There is no longer teams options at the West Macs Monster Trail Running Festival.
PRE-REQUISITES & REGISTRATION CONDITIONS:
Due to the physically challenging nature of the event and associated risks the following entry criteria will apply for all 231km 'Sonder Monster' race entrants.
Solo Competitors:
Evidence of successfully completing a 100km or longer

trail race

in an official event within the past 18 months from the event weekend.
Pre requisite race results must be submitted by linking us to your race results by midnight January 31st. You can enter after this date, you must upload your pre-qualifying race results link at the time of entry
Training runs will only be considered under exceptional circumstances and most likely not approved.
Alice Springs residents can run the following course as a qualifier. It must be verified by another person: The first 'half' of the full 231km course. Redbank Gorge trailhead start line-Mt Sonder-Ormistion-Ellery Creek Bighole finish. Approx 103km in under 20 hours elapsed time. A link to the effort via Strava, Garmin connect etc or similar is required as proof.
And
Being at least 18 years of age at the date of the event starting
And
All solo entrants will also need to provide a medical certificate from a doctor within one month of the race start date stating that they are fit to compete in an endurance event of this nature
COMPULSORY MEDICAL CHECK:
A compulsory medical cognitive check will be carried out at Standley Chasm checkpoint (166km) as a welfare check before being allowed to continue in the event. The decisions of the race medical team and Race Director will be final. If allowed to continue, you may be held back to re-hydrate or other medical treatment before being allowed to continue.
CUT-OFF TIMES:
Generous cut-off times are in place as follows:
49km Ormiston Gorge Check Point – 10 hours (7pm Friday) 12:14/km avg pace
103km Ellery Creek Check Point – 24 hours (9am Saturday) 13:58/km avg pace
166km Standley Chasm Check Point – 45.5 hours (6.30am Sunday) 16:26/km avg pace
206km Simpsons Gap Check Point – 55 hours (4pm Sunday) 16:01/km avg pace
231km Alice Springs Telegraph Station – 60 hours (9pm, Sunday) 15:35/km avg pace
Intermediate cut-offs may be introduced in between these official points if there is no way a competitor will be able to cover the upcoming distance in a time that will allow them to make forward cut-offs. This right may be exercised by the race director in the interests of competitor/event safety and event management. As much forward notice will be given to the competitor or their team as and if possible. The Race Rules contain more detailed information
POINTS:
Completion if this race is worth 6 ITRA Points and is a qualifier for UTMB
ACCOMMODATION:
There are many accommodation options in Alice Springs to suit all budgets. There will be event provided transport at an additional cost to the Start Line on Friday morning. More details will be provided closer to the time.
CLIMATE INFO:
In  May, the average daytime temperature is 23 degrees with overnight lows around 7 degrees. There is approximately 11 hours of daylight and a low chance of rainfall. Generally, people find that due to the low humidity of the dry desert air, they need to drink more fluids than usual.
HELPFUL LINKS: