25km – Simpsons Gap to Telegraph Station along the Larapinta Trail to the Telegraph Station
The 25km 'Simpson Monster' from Simpsons Gap to the Telegraph Station is the perfect trail run for people who want memorable lifetime experience running on the Larapinta Trail that packs a punch without the pain and risks of an ultra distance. All single track with a great combination of flowy and technical terrain and one of the favourite runs for local trail runners.
The event has been designed as a medium distance introduction to trail running. The views are spectacular, the trail is extremely runnable, there are only 2 real climbs and this trail is predominantly down hill in elevation.
This event has a generous time allowance. For those people who wish to jog/shuffle or brisk walk, they will be able to complete the distance before the closing time of 6pm. 6 hours for 25km means keeping under an average pace of 14min 24s per km….Easy(ish)!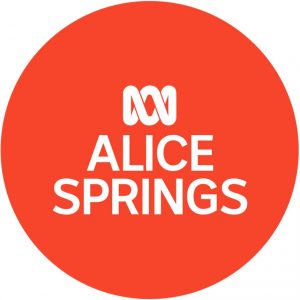 ABC are the proud supporters of the 25km Simpsons Monster. ABC are our broadcast partner for the West Macs Monster Trail Running Festival. ABC will provide lead up media exposure and coverage, nationally during the event. Keep an ear to ABC local Radio 783 on the AM band, or ABC news services during the event weekend for updates.
COURSE DESCRIPTION:
Chosen with trail 'novices' in mind. Chosen because you can race it! Chosen by the organisers as one of our preferred training grounds, we love this bit of the trail. Chosen because you can make it as challenging as you wish. Chosen because we can allow generous cut-off times for completion. Chosen because of its accessibility by anyone to the start line (bitumen all the way and only 20km from Alice Springs). Chosen because even if you want to shuffle, brisk walk, run the down hills and walk the ups – you will make it.
Although the track has two reasonable climbs in it, they are very achievable and provide amazing views of the surrounding countryside. The trail is well formed and marked between the start and finish and is predominately downhill. You will travel initially up to Hat Hills Saddle – and wow! first Selfie or Snap Chat moment – as you will have phone coverage from here on home. The trail sits at the base of Rungutjirba Ridge in the shade of the trees. Descending from this ridge you run through Bloodwood Flat which is some of the flowiest (is that a word), gently undulating single track there is. Once you reach Wallaby Gap, you can re stock you water for the last 14km to the finish.
Now here is the climb! – and yep it will feel like a big one – but just wait until you reach the ridge line. If you have never been here before, summiting this climb will reveal the most amazing view of Alice Springs, the West MacDonnell Ranges and as far as the eye can see to the east and north as well. You will be amazed at how many mountain ranges and hills exist in the distance in all directions.
And that is pretty much all the hard work done – from here you have about 12km of mainly downhill track to trot along to reach the Alice Springs Telegraph Station. On the way, we've snuck in
another aid station at the Geoff Moss Bridge, about 5km from the finish line. You will most likely integrate with competitors who are running the longer 231km, 128km or 65km races, and have been on the trail for a number of hours or even days at this point. Support these people and provide all the encouragement you can. It is these experiences that make this event unique.
Summary
Design to allow experienced trail runners to enter a shorter course option and challenge themselves, through to the trail novice, who will be surrounded by other novices experiencing trails for possibly the first time. Or even those who have hiked it and wish to push themselves a bit harder. Gaiters (leg protectors) are not required, but some people opt to wear them. We do recommend as a minimum – good quality trail running shoes, hats, sunscreen, phone with charge, a camera (if you don't use your phone), some tunes, some friends, a sense of adventure and don't forget your fluid and nutrition intake.  Some navigation is required to confirm you are on the correct path at all times – and remember – follow the BLUE arrows at all times!
For those experienced trail runners – you will love this little taste of the full Larapinta Trail. For those who have not done anything like this before – you will not be disappointed and will be extremely proud of your achievement. Go for it….!
ABC 25km Simpson Monster!
KEY DATES:  
25km Compulsory Briefing: Saturday May 18th 2024, 5pm Venue – Alice Springs Deseret Park
25km Start: Sunday May 19th 2024, 12pm from Simpsons Gap Car Park (Transport by event is available at a small additional fee)
25km Cut-off: Sunday May 19th 2024, 6pm Sunday, (6 hours) 14:24/km
Registrations Open: October 1st 2023
Online Registrations for personalised bib close: Tuesday April 30th , 2024
Registrations still available online up until 5pm Friday 10th May 2024 if not sold out. Some conditions apply.
EVENT PROFILE: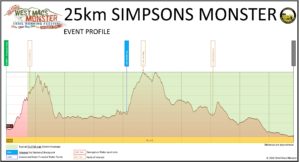 COURSE MAP:

MAPPING:
25km Simpsons Monster GPX (Download file, then unzip file before trying to open on your device)
REGISTRATION COSTS:
Individual Early Bird (before midnight October 31st) – $120
Individual Normal Entry (Nov 1st – April 30th) – $170
Bus to the Start Line – $15 (optional when registering)
REGISTRATION CONDITIONS:
There are no pre-requisites for this event

Participants must be at least 14 years of age at the date of the event starting and if under 18 years of age have parental consent to compete. We will try an gauge the ability of your children and will not unnecessarily withhold entry. We prefer younger runners to complete alongside a responsible adult where possible
DROP BAGS:
There are no 'on-course' drop bag options on the trail for the 25km event. However you can leave one for the finish line at the time of registration.
CLIMATE INFO:
In  May, the average daytime temperature is 23 degrees with overnight lows around 7 degrees. There is approximately 11 hours of daylight and a low chance of rainfall. Generally, people find that due to the low humidity of the dry desert air, they need to drink more fluids than usual.
HELPFUL LINKS: