128km – Ellery Creek to the Alice Springs Overland Telegraph Station along the Iconic Larapinta Trail taking the alternate high route on Section 3 between Standley Chasm and Jay Creek
OVERVIEW:
Is the 231km a bit more than you wanted to chew off? Come and run the 128km Ellery Monster trail ultra-marathon through some of the most spectacular and runnable sections of the Larapinta Trail. Starting at 9am on Saturday from the beautiful Ellery Creek Big Hole Waterhole. The route starts off with a fantastic flowing and gently undulating run across the Alice Valley on Section 6 of the Larapinta Trail.
Now that you have warmed up, enjoy the hospitality of the Hugh Gorge Aid station as you refuel for an epic afternoon traversing Hugh Gorge and then ascending the most spectacular Razorback ridge into the night. Catch the Aid Station crew at Junction 4/5 (Birthday Waterhole) for a refresh. From here, you will climb the amazing Brinkley Bluff. A summit that will allow you to view, by moonlight, a magnificent ancient landscape in every direction. A 10km technical descent will move you through to the amazing Standley Chasm aid station. Again, refuelling here is a must as you are about to undertake another hard slog for the next leg. Traversing the rugged back canyon from Standley Chasm, up along the high route, most of this will be in the dark or early morning as the trail markers reflect your way forward for some distance.
That is enough of the hard slog for a while…you run through some more amazing winding relatively gentle single track to Fish Hole waterhole, Mulga Camp and into Simpsons Gap Aid Stations where you only have 2 notable climbs and about 25km to go. Climbing up  Euro Ridge is one of the most rewarding views and your first glimpse of the destination, 13kms from the finish line and provides the final 'sting in the tail' before descending down to the finish line at the Telegraph Station.

Proudly supported by Ekistica, this local Professional Advisory and Technical Consultancy firm work nationally and internationally on challenging technical and renewable energy projects. They connect people, place and technology and relate well to the remote challenges and the special connection to country that you as competitors will face during this event.
ENTRY FEE INCLUSIONS (Not applicable to buddy runners):
Hard Copy Course Maps and GPX Files

Spot Tracker

Race Bibs (front and Rear)

Aid Stations and supplies

Provision of professional on course Medical support

Event medals and trophies or equivalent

Camping/access fees at Larapinta Trail Campsites/trail heads during event for entrants and immediate crews only

The trail running experience of a lifetime!
WHAT THE ENTRY FEE DOESN'T COVER:
Transport to Race Start lines (WMM will provide an option at a small additional cost)

Park entry fees to see the actual Standley Chasm ($15)

Any meals before or after the event

Accommodation
COURSE DESCRIPTION:
A 128km Ultra Trail Marathon – what more could you want. Running on challenging, rocky, technical terrain interlaced with sensational sections of flowing undulating hard-packed single track.
A morning road trip of approximately 100km out of Alice Springs to the Start line at the beautiful Ellery Creek Waterhole. This is 'the locals' swimming hole, where most Alice Springs residents will come at least once each summer to hang out for the day!
Starting 'on the beach' – who would have thought…! You will join the Larapinta Trail in a hundred meters or so for the journey across Section 6 to the breath-taking  Hugh Gorge. Approximately 30km of flowing single track joins the Heavitree and Chewings Mountain ranges together which provide endless vistas as you traverse the Alice Valley.
At the Hugh Gorge Aid Station, refuelling is a must! From here you will scramble up the Hugh Gorge for 4km or so. This is kind of a river rubble hopping experience with big steep cliffs either side until the exit from the riverbed where you turn right below unbelievably large glowing red cliffs to continue up Linear Valley to Fringe Lily Creek.  You commence your Razorback Ridge experience by ascending a switchback climb of incredibly well hand made single track! The ascent is technical, the ridge is technical and the descent into Standley Chasm – you guessed it – technical! But the rewards are phenomenal!
Beyond the Standley Chasm start line you will go into the most amazing back canyon, with  rocky technical sections and views up and down rugged ancient valleys full of Ghost Gums, Cycads Palms, Mulga Trees and spinifex. You will reach Millers Flat where you need to turn left and climb the high route option. The climb up this hill will test your endurance, and is the first of only three significant climbs between you and the finish line. It is the most spectacular and technical of all the climbs. Don't forget to take some priceless selfies on top of this ridge.
Off this ridge, down through fish hole waterhole aid station and continuing on to Mulga Camp – a well deserved check point, restock your fluids and eat some food. This signifies the end of the real hard stuff, with only two mild climbs in comparison to come. Easier running is your experience now through to Simpsons Gap checkpoint. From Simpsons Gap, 25km of fantastic running until the finish line. You may well encounter runners coming through, or indeed, you may pass runners from both the 231km and 65km events between here and the finish line. The last few kilometers takes you over Euro ridge, regarded as the best view of Alice Springs from the Trail and then, finally, down into the historic Alice Springs Telegraph Station finish line – wow!
Summary
Photo opportunities – √ Challenge – √ Rugged Beauty – √ Amazing Vistas – √ Some beautiful easy running interlaced with some extremely demanding, technical ascents and descents. Gaiters are not required to protect your legs, but some people opt to wear them. You will require – good quality trail running shoes (and maybe a spare pair in your drop bags), hats, sunscreen, your mandatory gear, plenty of fluid intake and ongoing nutrition.  Some navigation is required to confirm you are on the correct path at all times – and remember – follow the BLUE arrows at all times!
Don't underestimate the challenge this Ultra Marathon offers competitors. To finish this will require guts, determination and stamina. But we know you can do it – the reward will last forever!
ELEVATION:
Elevation data as calculated by the International Trail Runners Association (ITRA) https://itra.run/Races/RaceDetails/West.Macs.Monster.128km.Ellery.Monster/2023/78685
Elevation Gain 3,690m
Elevation Loss 3,770m
EVENT PROFILE: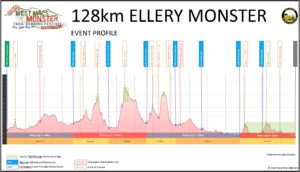 COURSE MAP:

MAPPING:
128km Ellery Monster GPX (Download the file then unzip the file before trying to open it on your device)
KEY DATES:  
128km Compulsory Briefing: Friday 17th May 2024, 5pm. Venue: Alice Springs Desert Park
128km Start: Saturday May 18th 2024, 9am from Ellery Creek Big Hole – (transport by event at additional costs)
128km Cut-off: Sunday May 19th 2024, 9pm
REGISTRATION:
Online Registrations Open: October 1st, 2023
Earlybird Registration Closes: Midnight October 31st, 2023
Online Registrations for personalised bib close: April 30th , 2024
Registrations still available online up until 5pm Friday 10th May 2024 providing pre-qualifications are met. Some conditions apply.
RACE FORMAT
Individual 128km Ultra-marathon
BUDDY RUNNERS/PACERS:
Buddy runners are subject to some rules contained in the general event rules. They are eligible to run in the 128km Ellery Monster from the Standley Chasm Checkpoint (~63km). All buddy runners must attend the Compulsory Briefing and comply with the race rules including mandatory equipment carry to the same level as that of the competitor they are pacing.
DROP BAGS:
Drop bags can be left at the time of registration for 2 major Aid Stations and the finish line; Standley Chasm ~63km, Simpsons Gap ~103km. Our preference is for the insulated zip top shopping bags for consistency. Check point labels will be available to be filled out at registration to attach to your bags for clear identification. We encourage you to identify your bags with your own coloured ribbon or similar to allow you to find them quickly at an aid station.
REGISTRATION COSTS:
**If this is a consecutive year of entering the same event, you are entitled to a 10% discount for each year after your first year, ie 2nd year 10%, 3rd year 20%, 4th year 30% etc. Email us if you would like to access this special offer.
Individual Early Bird (before midnight October 31st) – $590
Individual Normal Entry (Nov 1st, 2021 – April 30th) – $690
Bus to the start line – $35 (optional during registration)
PRE-REQUISITES & REGISTRATION CONDITIONS:
Due to the physically challenging nature of the event and associated risks the following entry criteria will apply for all individual 128km race entrants
Solo Runners:
Evidence of successfully completing a trail race within the past 18 months from the event weekend during an official event. The length must be over 55km length and you can provide a link to the 

race

result 
Pre requisite runs must be submitted by link us to your race results website by midnight January 31st. You can enter after this date, you must upload your pre-qualifying race results link at the time of entry
Training runs will only be considered under exceptional circumstances and most likely not approved
An Alice Springs training run has been developed in recognition of the cost to travel and attend events interstate that meet out qualifying criteria. The course must be done as a continuous effort and be able to be verified by another person as to its authenticity. That could a person running with you, a person that drops you off, picks you up, provides 'aid station' style support etc. The only course accepted is described below: (A printable map and this description is HERE)

Start point: The Timber routed 'West MacDonnell National Park' wooden sign approximately 2.2km before the Serpentine Chalet Dam turn off of Namatjira Drive, or 3.9km after the Serpentine Gorge turn off. (Head out from Alice Springs)
Run in this access track until you reach the base of the range, continue through the 'bare' area until you intercept the Larapinta Trail. Turn RIGHT towards Alice Springs.
Follow the trail up the hill until you reach the ridge track intersection under the native pine trees. Turn LEFT.
Continue up to the Counts Point Summit, identified by the Counts Point timber sign, go around the sign and return to the ridge trail intersection under the native pine trees again. Continue STRAIGHT and follow the trail all the way to the Serpentine Gorge carpark, toilet and shelter.
Head towards Alice Springs on the Larapinta Trail. Turn right before you enter Serpentine Gorge and follow the Larapinta Trail signs, past the campground shelter, water tanks and toilet. Continue towards Alice Springs until the West Junction sign where you will turn LEFT and head on the Ellery North Route.
Continue to follow this trail until the Ellery North campsite, shelter, water tanks and toilet. From the shelter head NORTH along the Larapinta Trail, towards Alice Springs until you get to the East Junction sign where you will turn RIGHT and head back towards Ellery Creek South. Head up over the saddle and continue to Ellery Creek South carpark, toilets and trail head.
From Ellery Creek, head SOUTH and locate the Dolomites Walk, which you will do in a clockwise direction. Once you reach the Larapinta Trail, turn LEFT and head towards Serpentine Gorge Carpark
The last leg is to follow the Larapinta Trail WEST back to the Serpentine Gorge carpark on Section 7 South, concluding your qualifying run at the Serpentine Gorge carpark and Trail head.
And
Being at least 18 years of age at the date of the event starting
CUT-OFF TIMES:
Generous cut-off times are in place as follows:
63km Standley Chasm Check Point – 18.5 hours (6.30am Sunday) 17:37/km avg pace
103km Simpsons Gap Check Point – 28 hours (4pm Sunday) 16:18/km avg pace
128km Alice Springs Telegraph Station – 36 hours (9pm Sunday) 16:52/km avg pace
Refer to the Race Rules for further details
POINTS:
5 ITRA Points and UTMB 2021 Qualifier
CLIMATE INFO:
In  May, the average daytime temperature is 23 degrees with overnight lows around 7 degrees. There is approximately 11 hours of daylight and a low chance of rainfall. Generally, people find that due to the low humidity of the dry desert air, they need to drink more fluids than usual.
HELPFUL LINKS: